10 to 11.30 am (NZST) May 19 on Zoom – One-off interactive Zoom video session with Valerie Wycoff
Want more confidence and self-trust in your online presence?
Trusting your voice is a key ingredient that I can help you with. In this interactive session we'll explore important questions – what do you want for your audience? Does your vocal tone match your intentions for connection? My hope is that in this session you'll get an experience of how your choices can support your emotional and vocal comfort as you continue to or move towards sustaining your work online. For those with deeper interest, follow up weekly sessions are possible.
This is a Free event to experience working with Valerie Register with this LINK to receive your Zoom invitation to this online session.
VOILA x 5!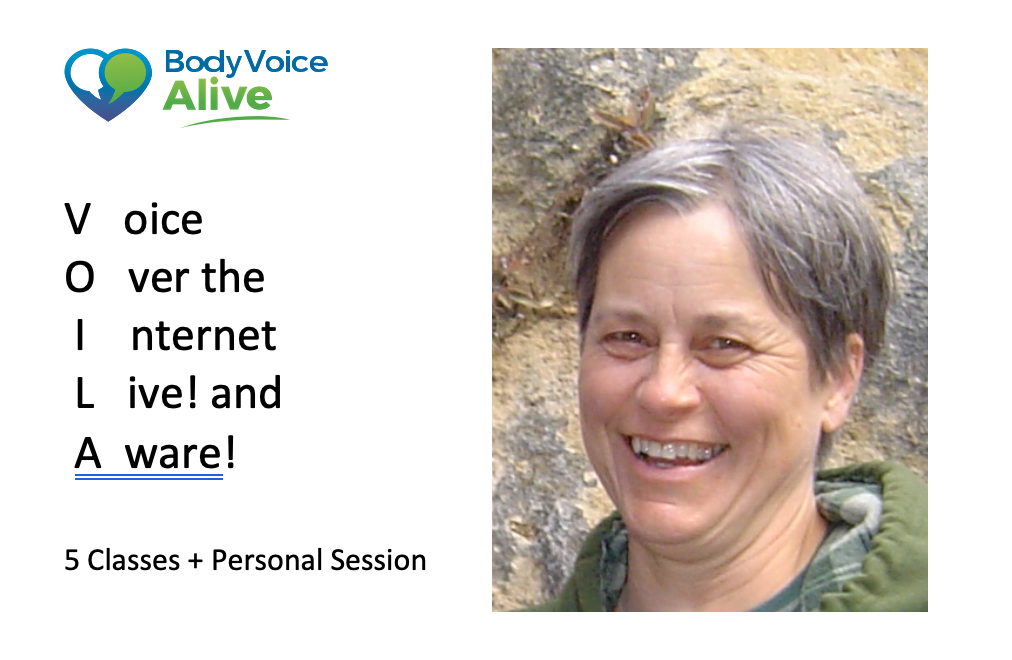 5 Weekly sessions – 10 to 11.15 (NZST) May 26, June 2, 9, 16, 23
Bonus included 1 personal session by appointment
For 6 to 10 participants.
Get to Know, Like and Trust YOUR VOICE

What qualities do you want to bring forth in your online presence and in your relationships? In a small online class you'll be guided to get to know your voice and shape your vocal results. You'll be able to reflect on how your using your voice in the intervening weeks, and to bring your personal voice questions to a private session with Valerie.
Valerie has over 30 years of voice teaching experience, 10 years of Feldenkrais teaching experience, and has been learning and teaching Nonviolent communication for some years, too. She's passionate about voice, emotion, connection, learning and enhancing life and ready to hear and what's important to you on your journey of getting to know, like and TRUST your voice.
Class size limited to support personalised connection and companionship with your fellow explorers. While class will finish at 1 hour 15 minutes – there'll be an optional question discussion time to follow it for about 15 minutes.

Your personal 45 minute session will be arranged at a mutually agreeable time between 7 am and 9 pm NZST between June 1 and June 20. Explore your own questions whether for speaking or singing or both!
Participants are invited to make a financial contribution in the range of $140 to $280 NZD, that is joyful, generous, and affordable for your circumstances.
LIMITED TO 10 Participants – Registration LINK HERE