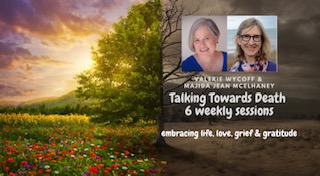 "Embracing life, love,grief and gratitude"
We warmly invite you to 6 weekly sessions
to explore what death means for our lives,
through facilitated conversation, interactive exercises, and self-reflection.
with Valerie Wycoff and Majida Jean McElhaney (Certified Trainers CNVC)
Pre-register your interest for this course with this LINKED FORM
We are intending to offer this course in 2023.
Online on Zoom video conference
What participants can expect on the course:
We will incorporate interactive exercises, self-reflection, small and large group discussion, and share some creative expressions on this theme – eg,readings, music, poetry, etc.
Through these sessions we invite you to
engage in a supportive community where it is safe to discuss life and death
explore/work with unfinished conversations with people who have died (for connection, peace)
become more confident initiating conversations relating to one's own death (trust, self-responsibility)
develop capacity for offering authentic compassion and companionship for others who have experienced the death of someone
become more accepting of one's own mortality (empathy, peace)
discover increased clarity about what really matters for your life
It is our hope and intention that you will come away uplifted from a renewed appreciation for life, companionship, and an expanded sense of capacity to care for yourself and others through meaningful conversations.
Financial Request – 240.NZD
Pre-register your interest for this course with this LINKED FORM.
Enquiries to Valerie 021 295 3979, or email valerie@bodyvoicealive.nz
Places are limited. If you're drawn and cost is a barrier, please email valerie@bodyvoicealive.nz
ABOUT THE FACILITATORS:
Valerie and Majida Jean love to connect with people through dialogue. Coincidentally, they are both Nebraskan by birth. Both are Certified Trainers through the Center for Nonviolent Communication. They each offer coaching, counselling and workshops to enhance connection, freedom, and new possibilities. They offered this workshop to glowing reviews in Christchurch in 2019.
Valerie lives in Christchurch, where she directs Reflections Threshold Singers, a group which provides trios to "make kindness audible," at the bedsides of people in the last stages of life.
Majida Jean completed the residential death doula training through Doorway into Light (Maui, Hawaii, USA). She is also an ordained interspiritual minister and a psychosynthesis guide, with experience in the field of trauma, mediation, and transforming difficult emotions.